In Memoriam
These are the foster dogs the crossed over the rainbow bridge while in our care, or after being adopted.
Sophie
Pulled from the Redwood City Animal Shelter in August, 2013. She passed away due to complications from Cushing's Disease in January, 2014
Petey
Pulled from the Oakland Shelter in March, 2014. Passed away due to injuries from an altercation with a larger dog in January, 2017.
Geo
Pulled from the Hayward Shelter in May, 2016. He passed away from congestive heart failure in October, 2017.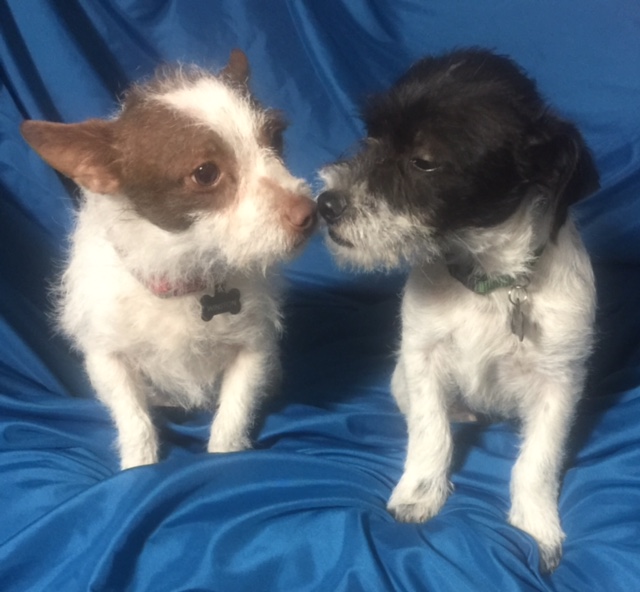 Winston & Baxter
We were devastated to learn that these precious little guys who were adopted in August 2017, were killed by two large, loose dogs on Thanksgiving while the family's son was walking Winston & Baxter. There were in foster care for 6 months before being adopted. The foster family is as heartbroken as the adoptive family.
Cinnamon
We helped Cinnamon get spayed and microchipped, but the law wouldn't allow us to find her a new home. We had to return her to the lowlife, scum-of-the-earth people that didn't have enough brain cells to figure out how to keep her safe. She was one of the sweetest dogs, and didn't deserve to be hit by a car while running loose through the streets of Castro Valley. By posting her here, we hope to honor her memory.
Gizmo
Gizmo ("Gizzy") wasn't a Nobody's Perfekt Dog rescue, but he played an important role in the work we do. He belonged to our primary foster home and over the last 3-4 years of his life he welcomed and mentored 80-90 foster dogs, helping them adjust to life in their new foster home. Gizmo was the most easy-going, sweet, gentle, playful, loving dog and provided a good role model for the other dogs. He got along with dogs, cats, chinchillas, people, kids, etc. He crossed the rainbow bridge way too soon. He was a healthy 9 year old, who was stricken (rather suddenly) with a massive stroke or undetected brain tumor on March 24, 2018. He is dearly missed by us all.
Dorie (a.k.a. Gloria)
Gloria was with us for 9 months before finally being adopted to the Honeycutt family on 4-13-2018. Gloria / Dorie died very suddenly and unexpectedly. She had an encounter with a backyard skunk a day earlier. There is speculation that the toxicity of the skunk spray somehow led to her death. She is dearly missed by the family that adopted her, her foster family and all of the shelter and rescue volunteers that interacted with her.
Gladys
Pulled from the Hayward Shelter in September 2017. Was placed in hospice care due to mammary cancer. Crossed over the rainbow bridge on December 13, 2018 due to multiple health issues.
Baby
Baby was surrendered to the Hayward Shelter because the family was unable to provide the necessary veterinary care that she needed. At 13 years old, her mouth was practically disintegrated for severe dental disease. A year later (December 2018), she succumbed to a large mass in her abdomen. She was blessed to have loving and caring foster mom for the remainder of her life.
Monty
Adopted in 2014, hit by a car and had to be euthanized on February 18, 2019
Dazee (a.k.a. Tessa)
We pulled Dazee from the Hayward Shelter. She was quickly adopted by the Honeycutt family, who had her for 3 and a half years. At 11.5 years of age, she developed some throat issues (collapsed trachea and growths, which made it hard for her to breath, so her family decided to ease her discomfort and let her cross the rainbow bridge on April 13, 2019. She will be missed by everyone that knew and loved her.
Zara
Her family decided to send her across the rainbow bridge on July 5, 2019 when she went into renal failure. She was diagnosed with kidney disease after she was pulled from the shelter. She was such a young dog to have kidney disease and we hoped she would have a longer time on this earth. She was such a loving dog who had a real zest for life. She was loved by everyone who knew her.
Priscilla
Priscilla died suddenly due to unforeseen complications from being hit by a car 3 months earlier before she ended up in the shelter. By all indications based on her condition when she was found, she had led a pretty miserable life on the streets. She as very dirty and emaciated. She had recently given birth before being hit by a car, but no one knows what happened to the puppies. In spite of all that, she was one of the sweetest dogs. She was still in foster care, and had a pending application before she died. We are grateful that we were able to give her love and care (that she never had before) for what short time she was with us. RIP sweet Priscilla.
Vicente (a.k.a. "Hutch")
Vicente crossed over the rainbow bridge on September 3, 2019 at the age of 14 years old. He had an enlarged heart and died of congestive heart failure. He was with his loving adoption family for 4 years, where they gave him the best possible life a rescue dog could want. His sibling, Starsky (a.k.a. "Tink") was adopted by another family, as the dogs didn't get along very well together.
Arlo
Crossed the rainbow bridge while cuddling with his foster dad on September 25, 2019, due to kidney failure as the result of Leptospirosis infection a year earlier.